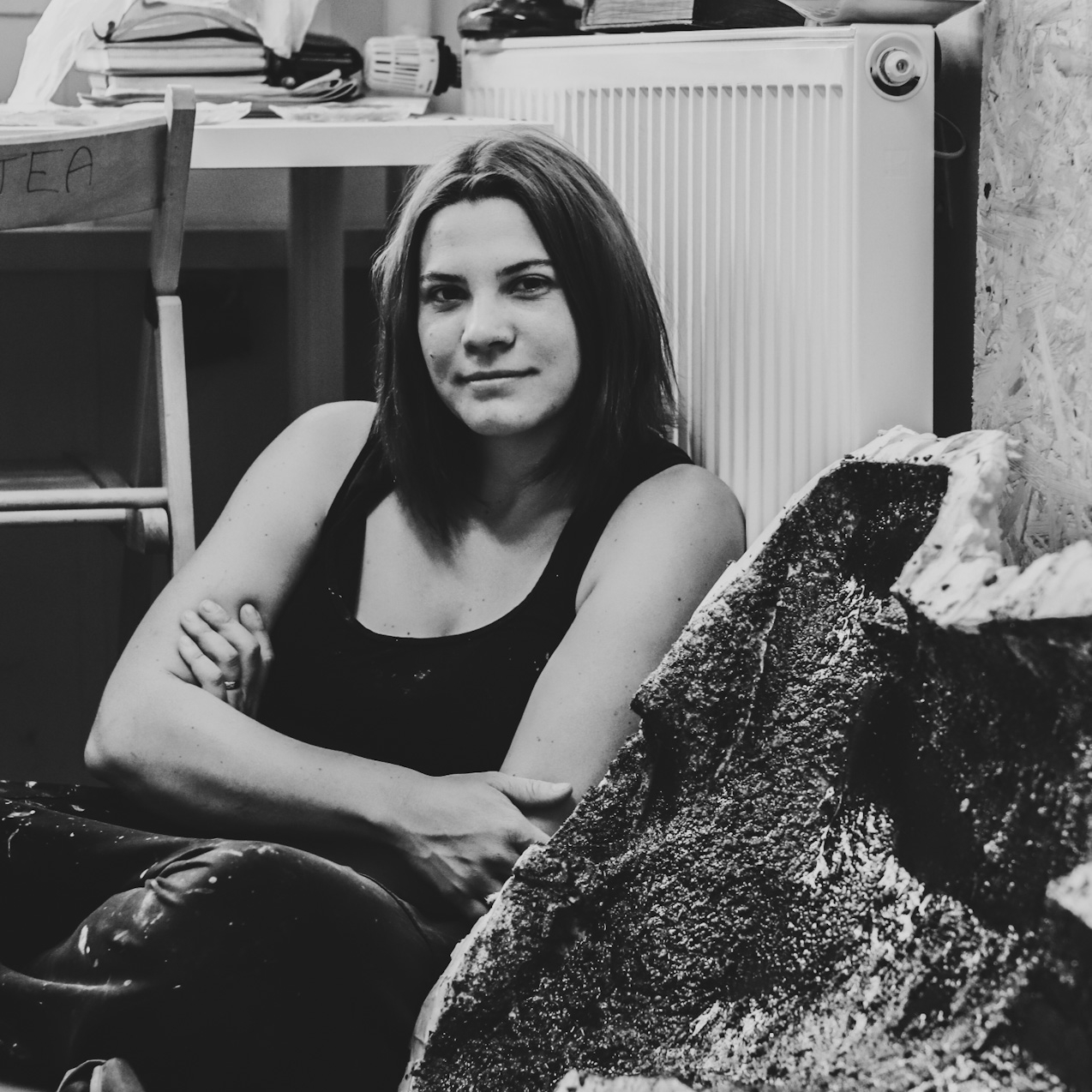 The essence of TEA's sculptural work is a figure as an elementary unit of human perception and experience. Tea's passion in modelling and casting figural sculptures originates in Michal Gabriel's atelier at Faculty of Fine Arts in Brno. In her work she modifies anatomically accurate depiction of a body using various materials. Tea deals with materials with huge respect and explores new, authentic methods of plastic art. Throughout years of practice she developed her own distinctive style thanks to her inventiveness. She creates sculptures as if she took over the role of Prometheus, a creator in his own way. Her treatment of substance is a never-ending experiment that balances on the verge of fragile and stiff, complex and fragmental.
These contrasting forms are materialized in Chloé, an imaginary sea creature. Shattered glass and ruptures in casted polyester resin express the evanescence of earthly remains in decay as well as its fragility and sensitivity. Kanopy (Canopic Jars) collection is also closely connected to the theme of decline and fall. This collection of anthropomorphic sculptures refers to ancient Egyptian jars that were used during the mummification process to store organs of their owner for the afterlife. Yet Tea's sculptures are shaped as children to interconnect the antipoles of death and birth.
Tea's master's thesis is dedicated to menhirs. Her fascination with menhirs evolved during her frequent visits of Carnac, France. She transformed an existing megalith near village Klobuky, Slánsko using 3D technology that allowed to transfer its distinctive shape into a piece of plastic art. The project poses a question whether such transferred form can carry meaning in the same way as a transferred and perfected print of an identical Platonic notion. Menhir is yet another theme that represents the author's connection with nature as well as her desire to be interwoven with it.
Žaneta Turoňová