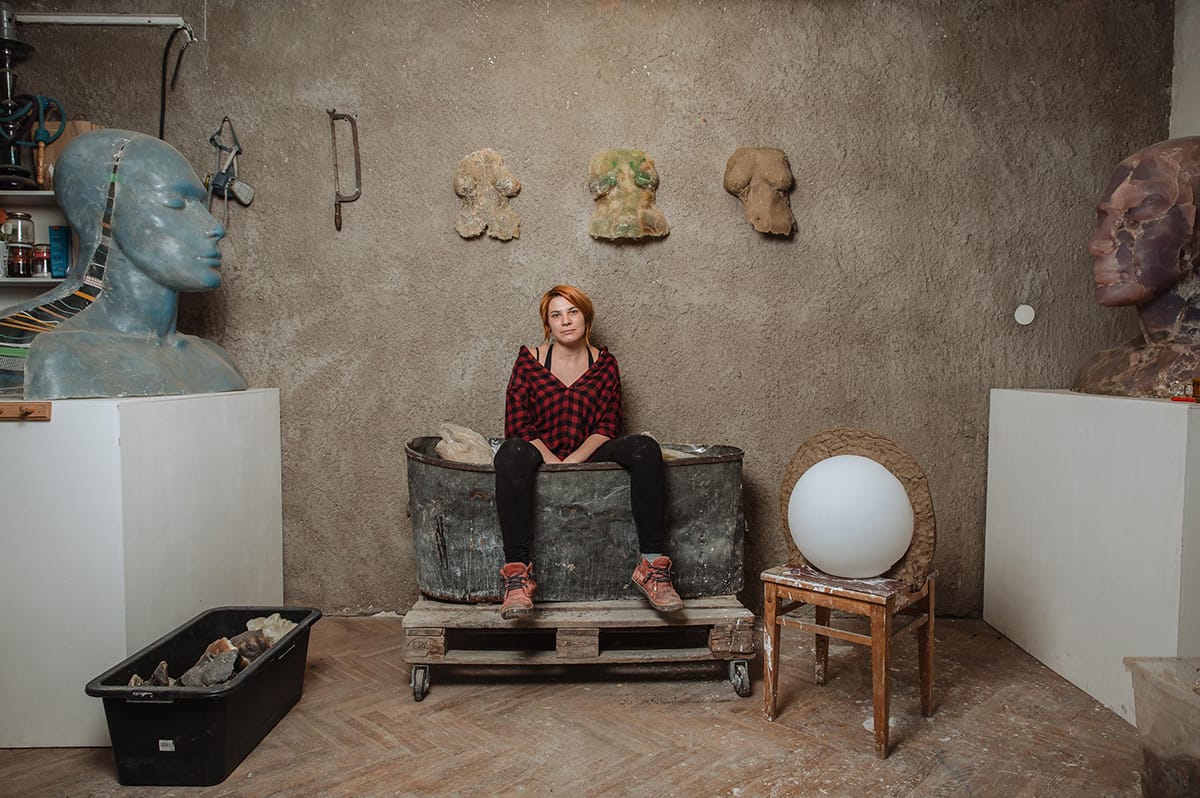 "The world of visual art is my natural environment, I grew up in it. And by the looks of it, I won't ever leave it."
I got acquainted with Tea and her work while preparing the Human Records exhibition, as part of The Triennial of Contemporary Central European Art project at the Museum of Art in Olomouc. My exhibition aimed to present different ways contemporary art explores, examines and depicts humanity. For Tea, a human being is the cornerstone of her work. It was her catalogue of human imprints, the variety of materials and her fascination with ancient art that got my attention. First, I visited her in her studio in the Vysočina region, in a house inherited from her grandmother where she lives with her family. Then, she took me to her very first studio in Brno, housed in a run-down building made up of prefabricated housing units. And finally, she brought me to her new studio, in one of the remaining factory buldings in the Zbrojovka complex which is being demolished. Seeing her endow each of these places with a homely atmosphere was indeed a pleasure, as she transformed the often unpleasant and dysfunctional areas into functioning workspaces that inspired creativity and oozed a sense of comfort. Tea is able to work with her home and work environments, and she invests the same kind of productive positivity into her art.
The world of art is Tea's natural environment. She grew up in a home infused with art, she went to a secondary art school and then she graduated from the Faculty of Fine Arts in Brno. At university, she chose sculpture as her mode of expression. Sculpture is, compared to other art forms, more closely related to a tradition of craftsmanship, as well as being demanding in terms of materials and technologies. Michal Gabriel's studio at FaVU became her entry point into this challenging environment. Her stay in the studio was enriching and allowed for her creativity to evolve. It is only natural that students and young artists look for role models and sources of inspiration, and so, in a number of places in Tea's early work, we can see the influence her teacher's work had on her. Like him, she chose to do figurative sculpture, where the focus is on the form and the object as a whole, rather than the details and one's artistic expression. The materials used take the lead role here, as they are discovered, combined and experimented with. Nowadays, Tea has set off on her own, free and wholly independent journey as an artist, while following up on and developing the work and themes she dealt with during her studies.
When taking an overview of Tea's work up until today, there are three distinct areas, either in terms of the theme or the materials used. These areas often overlap, as they have no distinct boundaries, but I consider them vital in understanding Tea's work. One of these areas involves using elements of mosaic in a fairly unique way. Tea has covered some of her sculptures with glass shards of different colors, glued to the surface. This allows for the sculptures to make a unique impact. Another area, a thematic one, involves a set of meditative figures. And last but not least, the third area involves imprints: of concrete, physical bodies, or, in metaphor, imprints of Tea's life. Mosaics
Ever since her first attempts at school, Tea has been interested in combining different sculpting materials. She would cover the surface of her sculptures with glass shards of different colors (Glassie, 2015, plaster, glass, 32 x 30 cm; A Man of Wisdom, 2015, oven baked clay, glass, 30 x 20 cm). The emotionless, stiff faces resemble masks. Tea was not interested in facial expressions or details, her primary focus was the matter, the form and the material, which later became characteristic of many of her works. Tea used elements of the mosaic in her further sculptures, such as Ester (2017, fiberglass, glass, 160 x 60 cm) and A Man´s Head (2018, styrofoam, ceramic tiles, glass, granite, 60 x 25 cm). Ester is a human figure covered with an intricate mosaic made up of blue and green shards. The hardness of the material, coupled with the stiffness and sense of fixation in the sculpture, is softened by a gesture of the hand and the use of contapposto, which lends the figure an impression of liveliness. The Nest (2016, sandstone, glass, 30 x 32 x 55 cm) deviates from this line of figural sculptures. It relates to Tea's exchange stay in France, where it was also created. The Nest was, up to that day, her only sculpture where a traditional material - stone - was used. She filled this solid, safe space with tiny, fragile pine cones encased in a glass mosaic crust. These could be seen as representing eggshells that hold within the origin of life.
Tea does not use mosaics to create additional shapes or some sort of regular grid; she approaches the traditional medium in a different manner. She transfers the mosaic into three-dimensional space and uses it to shape the material. In contrast to her other figurative sculptures, in Menhirs (2018, in 3 parts, styrofoam, glass, 140 x 48 cm, 68 x 52 cm, 70 x 40 cm), she managed to achieve consistency between the topic and the material. Stable, durable and inanimate stones correspond with the hard, solid material of a glass mosaic, this time, in bright blue colors. The mosaic technique, with a history dating back to the ancient times, has always been related to architecture. Order, system, rhythm, a grid - all of these are characteristic of classical mosaics, of both the figurative and ornamental types. It was only with Antoni Gaudí that this order was disturbed. He composed his mosaics from irregular, brightly colored fragments and used it to complement his architectural works. Freeing it from clearly defined shapes, he allowed it to "flow" over the surface. Tea uses a similar approach with her sculptures. The glass shards are used freely, the sculptures are wrapped in them. Their purpose is far from decorative. In both the form and content of her figurative sculptures, they reinforce, symbolically, the importance of liveliness, the fragility of life, as well as the continuity between the past and the present.
"A work of art opens a pathway into this world. Upon its creation, we receive a kind of invisible invitation, and we become part of something bigger and more complex. "
Meditation
Unlike her mosaic sculptures, which are firmly enclosed in their glass encasements and appear somewhat reserved, Tea's meditative sculptures, made using fiberglass or polyester resin, attract the viewers, and it almost feels like they are pulling them into their world. The oldest piece, Bruno (2016, fiberglass, 55 x 55 x 63 cm) is a realistic sculpture of a sitting boy, his head bowed down. The piece resembles a daydreaming child. The Nameless One (2016, polyester resin, glass, 62 x 50 cm) is a purely contemplative sculpture. The bust, with eyes closed, contains an intricate structure made up of glass fragments, with an inner light source. Tea gave a similarly calm, medititive expression to a female figure in Meditating (2018, combined technique, 90 x 85 cm). The figure is seated in the lotus position and the whole sculpture gives the impression of physical and spiritual harmony and concentration. The two latest busts, Fragility of Being (2019, polyester resin, 90 x 110 cm) and Lookalike (2020, polyester resin, combined technique, 90 x 110 cm) are part of this contemplative, brooding, dreamy line of sculptures that evoke a feeling of peace and harmony. Chloé (2017, polyester resin, glass, 79 x 300 cm) feels like an exception, but it is still in the spirit of these meditative sculptures. A figure floating on water stands out in Tea's body of work due to both its size and location. The female body evokes a mermaid, an otherwordly creature or perhaps Ophelia, drowned and no longer burdened by life's many worries. All these sculptures have a calming effect on the viewers, they inspire them to stand still, to dream and contemplate. Also, the materials used (fiberglass, resin) seem to be able to capture the light falling onto them beneath their surface, and thus they emanate a feeling of intimacy. In this line of sculptures, Tea suppressed her urge to experiment with material and form, and remained true to more traditional approaches in sculpture.
"Well in my case, cooking and art actually have a lot in common. You do both really impulsively, and you let things flow. I usually cook whatever comes up in my mind, and it's the same with art, and sometimes I open a cook book to get inspiration, and then I figure out that really, the only way you create something good is through intuition and a bit of experimentation. Sure, things go wrong - there's always that. But that's precisely what makes the process exciting, and the result ever more fulfilling."
Imprints
Tea's figurative work is also partly autobiographical. Some sculptures are interwoven with her own life story; they are imprints of events, experiences, people she has met. Her bachelor's thesis was based on meeting people: it involved a series of ninety casts, each a copy of a different face and each made using a different material (Masks, 2017, 90 pieces, combined technique, 20 x 13 cm each). Every one of those casts became unique not only by itself, but also due to the material used. Ninety different material combinations, that is quite a challenge, and so, from time to time, some unusual objects make an appearance, such as coins, blades of grass or buttons. Masks represent Tea's desire for discovering new techniques and material combinations, as well as experimenting with them.
In 2017, Tea took a deep interest in making imprints of human bodies. At that time, a torso of a man's body was created. The chest is incomplete, a lot is left unsaid, the posture is just hinted at - all that inspires the viewer's imagination (Torso, 2017, polyester resin, sand, 52 x 40 cm). A similar fragmentary approach is used in Three Ladies (2017, 3 pieces, combined technique, 40 x 28 cm each), which depicts three female bodies. Within a short time frame, Tea created sculptures that depict both the male and female principle, and her figurative work was, very naturally, drawn towards the two bodily poles of humanity. The interest in the male body has remained in her work until today. In her latest group of sculptures, simply named Man, she has expressed, very explicitly, her admiration for archaic art (Man, 2021, six pieces, fiberglass, combined technique, 80 x 55 cm each). Six male torsos, in bright blue fiberglass, pay an hommage to the archaic period of antique sculpture. She created the stiff, athletic imprints from a single mold. However, each cast is different. Gradually, Tea damaged and degraded the casts, more and more, to communicate a sense of decomposition and destruction. The torsos are but fragments of the real thing, but Tea degrades them even further, emphasising the ephemeral nature of existence, the temporal limitations of being - regarding both objects and life itself.
The temporaty aspect of human existence is central to Tea's major work, and also one that is perhaps most autobiagraphical. Canopic Jars (2018, combined technique, 43 x 16 cm each) is her spontaneous reflection on the birth of her first daughter. Canopic jars were funeral urns in ancient Egypt, and they held the dead person's internal organs. Usually, they depicted one of the ancient gods. Tea, on the other hand, gave these urns the face of a small child, her newborn daughter. Thus, she managed to merge the themes of birth, death and human existence, a state of being which is passing and fragile, and captured both its beginning and end. Her first canopic jar was replicated using various materials, and just like with her Masks, Tea's desire to discover and combine different materials took hold of her. Gradually, different canopic jars were made from concrete, plaster, styrofoam, korundium, fiberglass, bronze or with the help of a 3D printer. For the purposes of her exhibition in Olomouc, she also created a fragile sculpture made of paper. Her Canopic Jars series is an ever-expanding universe, and it is a place where Tea's fascination with experimentation and a variety of materials finds its home.
Things that are permanent and immutable stand in contrast to those which are changeable, temporary. The former is the essence of Tea's current work, which focuses on a series of sculptures called Menhirs. Tea has long been fascinated by the real thing - huge blocks of stone resting in the landscape - and they also became the subject of her diploma thesis. At a first glance, it may appear that with Menhirs, Tea is deviating from her figurative body of work, but this is actually not the case. After all, menhirs are also figures: unchanging, permanent figures in the landscape. The first menhir sculptures were created at the Workshop symposium in Mikulov and were already mentioned in my discussion of glass mosaics. In the coutryside near Klobuky, there is a slender, lonely sandstone rock called the Stone Shepherd, the largest menhir in the Czech Republic. This menhir became the object of Tea's deep interest. Tea photographed the Shepherd in detail and created a digital three-dimensional image, cutting it up into a number of horizontal layers. She then recreated these layers using styrofoam boards, each hand-crafted to reflect the required shape and then all assembled together to create the menhir sculpture. However, her work did not end there. Tea created a mould which she is going to use to cast three more sculptures of the Stone Shepherd. We just need to wait and see what comes out of it. Our society nowadays is focused on technological gadgets, speeding up various processes, shortening distances and exceeding limits - and as such, it broadens the horizon of the possible. What effect does it have on sculpture which has, until this day, been a rather "slow" medium and in terms of materials, it has often worked with the concept of "eternity"? Part of the industry tries to keep up with the current trends. Inspired by the ever-expanding range of possibilities offered by modern technology, the concept of a "digital sculpture" came to existence. It has also been promoted by Michal Gabriel, the head of Tea's studio at university. Under his leadership, Tea touched upon this new trend when creating the Stone Shepherd menhir sculpture, but otherwise, she has remained faithful to the tradition of "craft" sculpture. She works more in the spirit of other contemporary approaches, such as those presented at the 2019 "A Cool Breeze" international exhibition in Rudolfinum in Prague, or the 2020 "RE_FORM" exhibition in the Trafo Gallery in Prague, which served as a probe into contemporary Czech sculpture. Both of these overview exhibitions avoided digital forms as a matter of principle, showing instead that major works of contemporary figurative sculpture are rooted in a conceptual approach. The artists focus primarily on the surface and the material, and their interest and effort in quoting traditions and history is fairly evident. Tea's work also corresponds to these tendencies, making her part of an exceptionally strong wave of young sculptors for whom figuration is absolutely central, and through it, they naturally respond to the present, but at the same time, they work intensively with historical references. Within this direction, Tea maintains an undeniably distinctive form of expression, based on her impulsive, intuitive depiciton of autobiographical experiences or personal statements inspired by the world that surrounds her.
Šárka Belšíková, January 2022